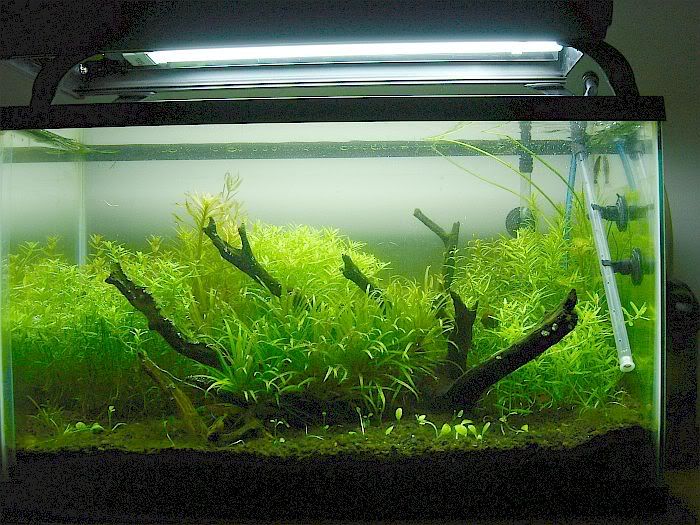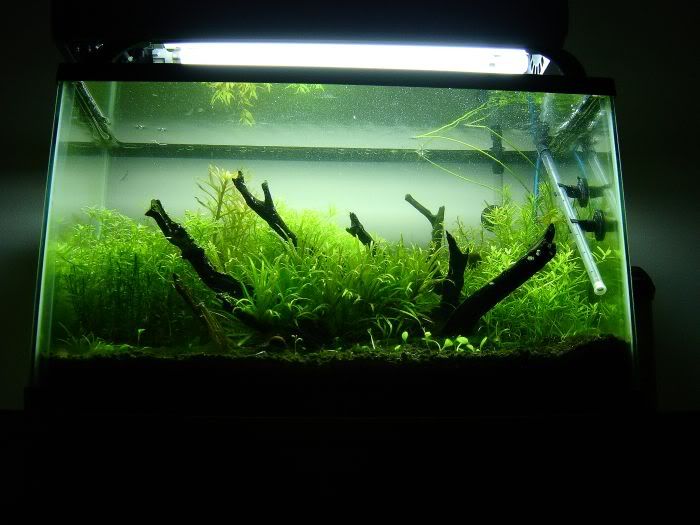 Plants being used:
Echinodorus tenellus "micro"
Glossostigma elatinoides
Blyxa japonica
Didiplis diandra
Rotala sp. Nanjenshan
Ludwigia arcuata
Hemigraphis traian
Isoetes sp.
Rotala rotundifolia "Green"
Rotala rotundifolia 'Colorata'
Rotala macrandra "Green"
Ludwigia sp Pantanal
...a lot of plants with the potential to become very colorful.
Bioload:
2 Nannostomus espei
3 Badis benegalensis (reverse trio)
Lighting: 2x40w (8wpg) w/ 6700k/10,000k lighting
Bulb #1: 8am-4pm
Bulb #2: 10am-6pm
Both are on for six hours out of the day
DIY CO2
Additions:
~15ppm NO3 weekly
~3ppm PO4 weekly
~6ppm K+ weekly from K2SO4
10mL Flourish weekly (2.5mLx4)
10mL Flourish Iron weekly (2.5mlx4)
Problem:
I cannot turn my plants any color other than green. The 'red' plants are a barely there orange at best, and I don't understand what is wrong. I am trying to keep PO4 high and NO3 low, since starving PO4 resulted in a horrendous algae outbreak which still haunts my tank in the form of green dust, spots of BBA, and this bizarre "dust" algae that makes the aquarium look dirty (this photo was taken the day AFTER a water change and it's already going downhill).
This layout really depends on a tapestry of variation in color from the purple Hemigraphis to the red L. arcuata and the orange Didiplis diandra... but I am simply unable to get much of anything out of the tank other than a massive algae outbreak by the end of the week.
HELP.
Oh. This is a 10 gallon.
Carlos