Ok, here's the spectrum of T5HO Giesemann Midday fluorescent bulb. A bulb that produces light that is both very good for the plants AND has a color that is just beautiful to look at. If in the middle of winter you place a 54Watt Midday bulb in a room, get out of the room, and look at the open door you wil swear it is summer in there - beautiful sunlight spilling out the door:
Now look at what are the best wavelengths for photosynthesis:
Chlorophyll A: 435 - 665 nm
Chlorophyll B: 490 - 650 nm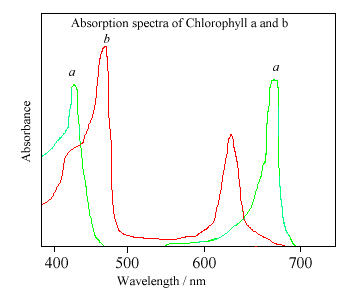 Apparently the Germans have almost completely ignored Chlorophyl B. But they have added green color to the bulb (more or less useless to plants) I guess to make people like me like the color of the light.
So, what can you tell me about that situation? Why that bulb seems to grow plants very well?
I am aware of the fact that the photosyntesis runs just fine at wavelengths "close enough" to the perfect. 430 or 440 is fine, 660 or 670 if fine. Ok, good, but is there anything else that I don't know?